September Carry In Supper:  A Focus on Mentoring
Each September the Shoreline Branch of AAUW begins the year with their annual carry in supper and a focus on service opportunities. This fall, the Branch will be focusing on mentoring programs and our keynote speaker was Barbara Solomon, school psychologist. Ms. Solomon is the founder and former executive director of the Guilford Youth Mentoring program. The program originated by the success of the special services team's idea of bringing people into kids' lives as well as growing support from the Governor's Prevention Partnership program. After 15 years of fostering the remarkable growth of the program, Ms. Solomon has chosen to retire but not before receiving numerous accolades from state and local agencies.
The program was held on Wednesday, September 12th at the Madison Congregational church at 26 Meeting House Lane,, Madison, CT and was coordinated by Shoreline AAUW Leadership Team member Marcia Myhre.
April Joint Program with Lower CT Valley
Susan Landino was the  speaker at our annual joint meeting when the  Lower Connecticut Valley and Shoreline branches of AAUW join forces.  She is an academic, an expert on Title IX issues and an activist supporting  students dealing with harassment issues.  What's more, she is an outstanding example of an individual who stood up and said "No", successfully bringing her own case against Yale—-aided by our Legal Advocacy Fund. Not to be overlooked—she is a member of the Lower Connecticut Valley Branch.
Susan has spoken in many states and drew accolades at AAUW's National Convention in June 2017. This is our chance to hear her message.
December Holiday Program
Our December 13th celebration began with a panel of three guests who talked about memories and traditions that marked their early years: Sister Ann McGovern of Mercy by the Sea  recalled her Catholic holidays,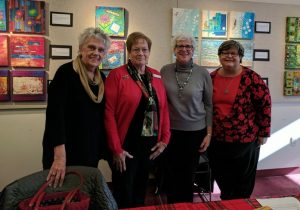 Melissa Lamoreaux, former president of our Shoreline Branch,  talked about the Norwegian flavor of her Protestant holidays and Rabbi Stacy Offner of Beth Tikvah Temple talked about the traditions of her Jewish holidays. The audience  joined the discussion with their own "I remember when….." stories.
Afterward we enjoyed a selection of international h'or d'oeuvres featuring holiday treats that we savored amidst music, lights and decorations from different cultures.
November Scholarship Luncheon
We began the holidays earlier in the month with our annual scholarship fundraiser at the Clinton Country Club. Cindy Boynton was an engaging author who talked about Hartford women whose extraordinary accomplishments did not get into the State's history records. —Astonishing!
Our accomplishment, on the other hand, did go into the record. We raised over $3000 for the scholarship fund. Thank you to guests and to all the committee members who arranged the details which made the luncheon and raffle a prosperous event in every sense of the word.
September Potluck Supper
On Wednesday, September 13th the Shoreline Branch held its annual Fall Kickoff Potluck Supper.  This year we held our event at the Clinton Town Hall.  Delicious food, good conversation and interesting speakers we enjoyed by all!  We were fortunate to have two wonderful speakers: AAUW Connecticut State President Karen Grava and Amanda Pinto, our 2017 Local scholarship winner.
Thank you to Rita Holmberg our Scholarship Chair and to Elaine Quayle for organizing our speakers, to our Hospitality Chair Joan Filbey and Rita Holmberg for setting up and providing our lovely seasonal decorations and certainly to Jan Jones for pulling it all together and running an entertaining and informative evening!